KY Pitch 2019 Winners
The KY Pitch Business Plan/Model Competition is designed to encourage innovation and entrepreneurship through engaging students from Kentucky's postsecondary colleges and universities and providing an opportunity for them to develop and pursue their business ideas. The competition rewards business models and plans that are judged by an independent panel as most innovative, complete, and most likely to result in successful ventures that would create new jobs for Kentuckians. Read more
Winners of Bootcamp 2.0 (Spring 2019)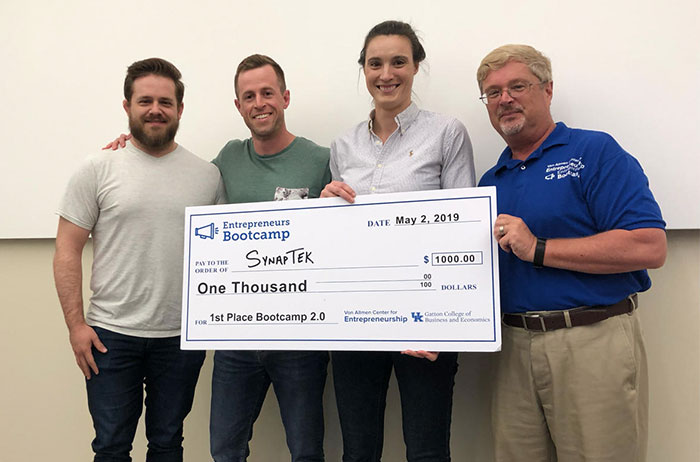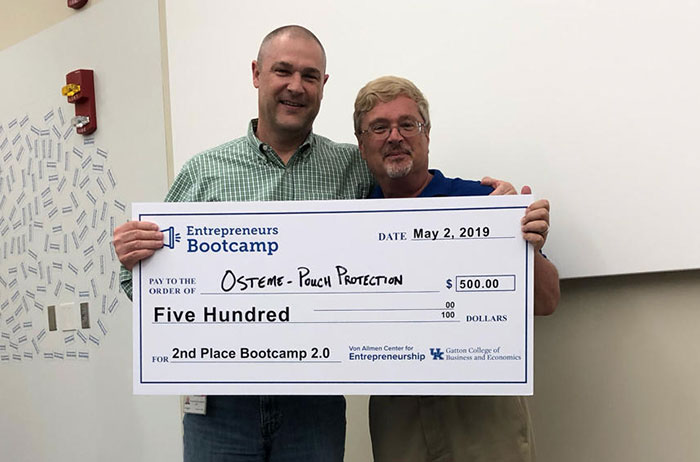 Idea State U Finals Spring 2018
Bear In Mind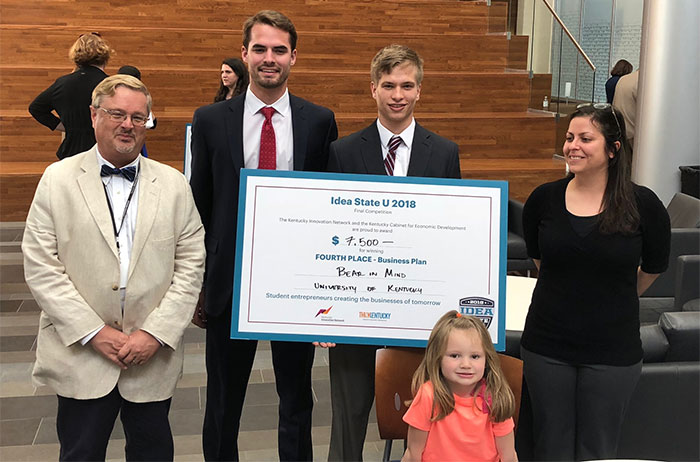 Bear in Mind, an entrepreneurial team featuring UK College of Engineering undergraduate Austin Horvat and Gatton undergraduate Ben Beausir, captured fourth place in the Business Plan track, earning $7,500 for their startup. In all, six teams of UK undergraduates and graduate students took part in Idea State U. Three of these teams have formed companies, with the other three looking to form startups. Read more
Idea State U Regionals Spring 2018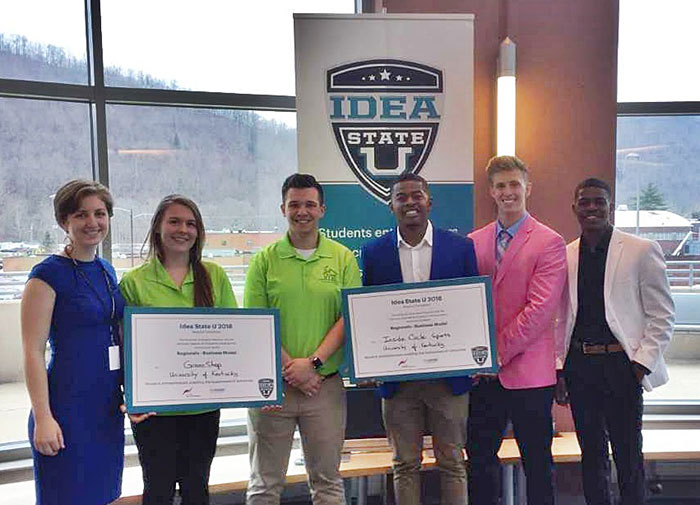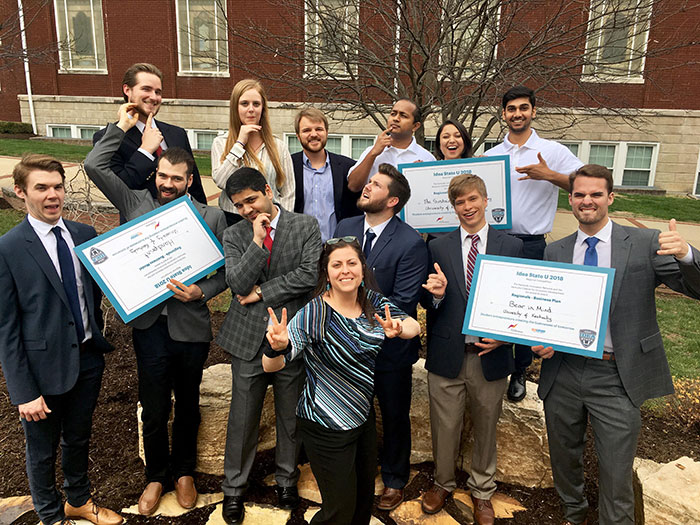 FinTech Competition 2018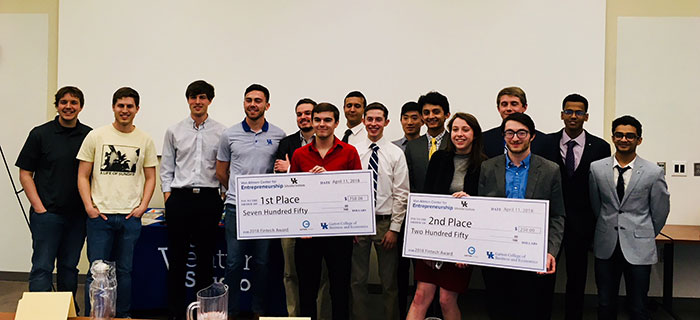 On April 11th, Gatton FinTech, the Von Allmen Center for Entrepreneurship, and the Schnatter Institute put on the second annual Gatton FinTechChallenge. The challenge is a mix of a startup idea competition and a pitch competition, with a specific emphasis on financial technology. Together, the first and second place winners were awarded $1,000 for their ideas and pitches. The first place winner, CryptoBots developed a cryptocurrency trading bot that actively seeks out price differences among several cryptocurrency exchanges, and automatically trades assets to exploit those price differences faster than could be done manually. The founder, Brian Carlson, has long term plans to create a fund operated by his bot.
The second place winning team, Lucille 1, offers a service where small-time investors can benefit from cryptocurrency mining. The founders, Haley Meek and Jacob Pawlak, have a sophisticated mining machine, of which customers may "rent" a percentage, or simply invest in a fund managed by the company. This solution solves the high cost of entry that deters most beginners from cryptocurrency mining.
Dr. Chen's MKT 450 Class Competition Spring 2018 - Gatton College of Business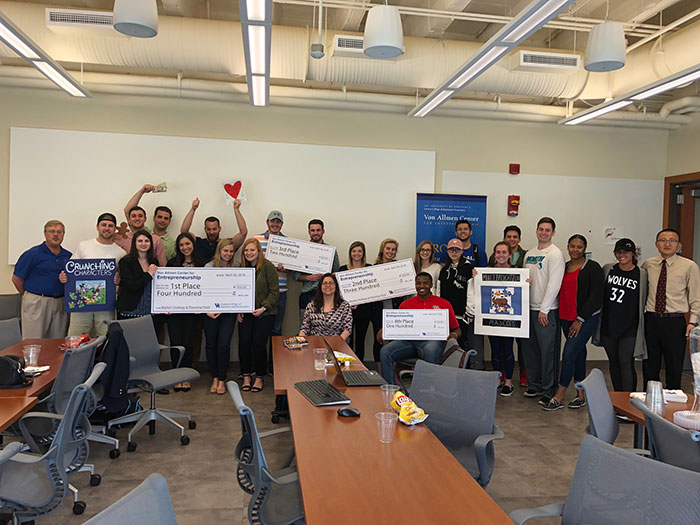 Stillage Solutions
MBA Student Team, Fletcher Young and Zach Yonts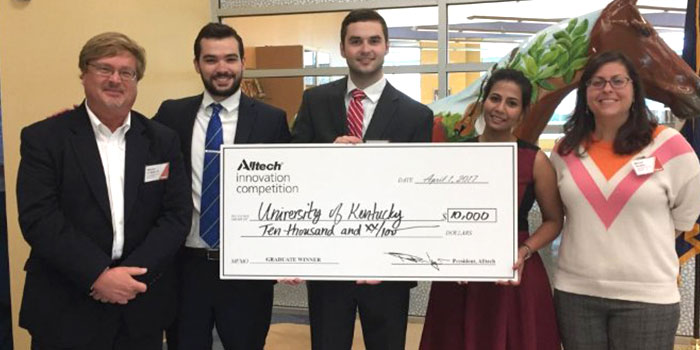 Project description: Stillage Solutions uses stillage waste from distilleries to produce activated carbons. Activated carbons are used to develop batteries, supercapacitors, water filters, and a variety of other products. Developed by the Center for Applied Energy and Research (CAER), Dr. Steve Lipka.
Team Stillage Solutions won 1st place in the 2017 Alltech competition, totaling over $10,000 in overall prize money.
I-Remember
Marissa Wilson (Design), Spencer Sabharwal (Business), Omer Tariq (Business)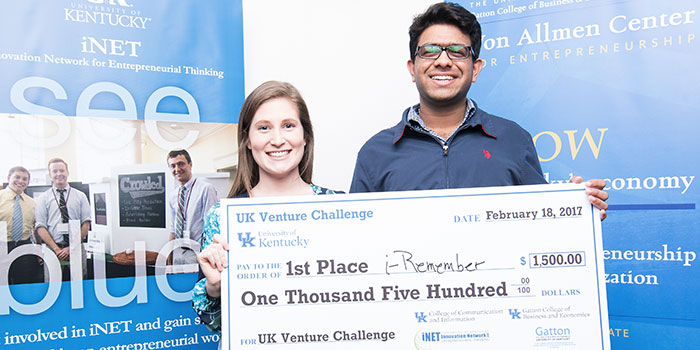 Project description: I-Remember is an app designed to help people with Alzhiemer's remember their life story through personalized photographs and songs. Developed by graduate student, Marissa Wilson, from the College of Design.
Team I-Remember won 1st place in the 2017 UK Venture Challenge, totaling over $1,500 in overall prize money.
Welcome Home
Kai Zhang, College of Medicine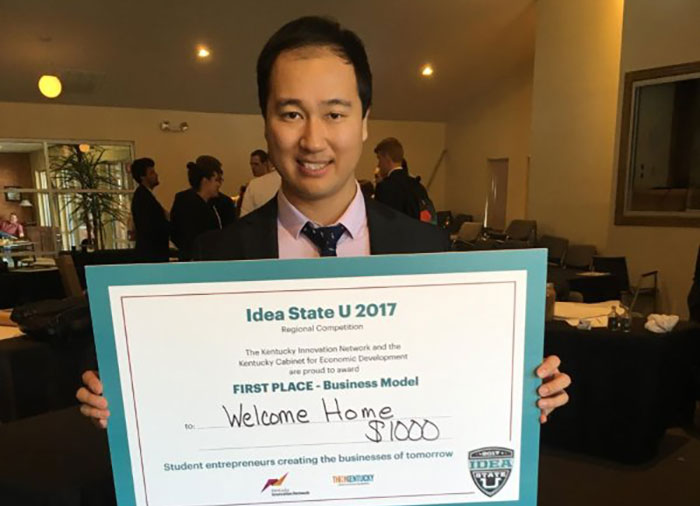 Project description: Welcome Home helps international students identify housing, providing translational services, as well as airport transportation, for incoming internationals moving to school at the University of Kentucky. Developed by PhD student, Kai Zhang, from the College of Medicine.
Team Welcome won 1st place in the 2017 Idea State U Regionals, totaling over $2,000 in overall prize money.
Race Assured
Stefanie Pagano (Engineering), Ben Martin (Agriculture), Julia Fabiani (Agriculture)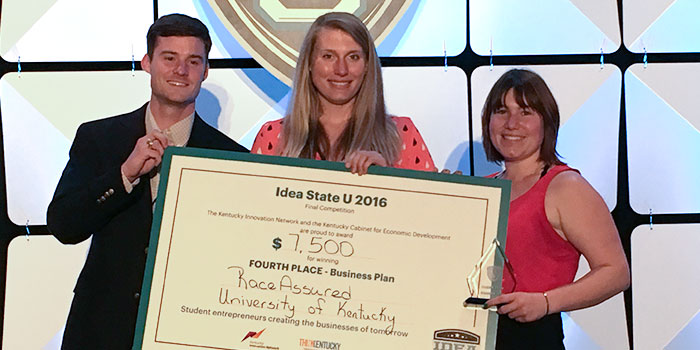 Project description: Race Assured is a blood test that identifies specific biomarkers in horses which indicate a potential breakdown. Developed by Dr. David Horohov, from the College of Agriculture.
Team Race Assured won 1st place in the 2016 Georgia Bowl, and 4th place in Idea State U finals, totaling over $11,000 in overall prize money.
Serandu
Caitlin Halliwell and Alison Burke, College of Agriculture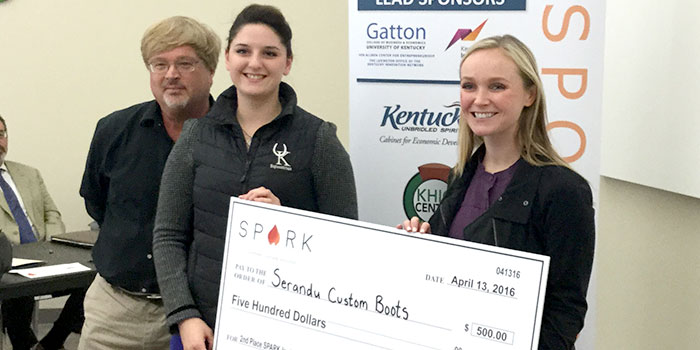 Project description: Serandu provides 3D scans of a horse rider's foot, developing customized boots for riders.
Team Serandu won 1st place in the 2016 UK Venture Challenge, totaling over $1,000 in overall prize money.
TerraCast Technologies
MBA Candidates | Jordan Denny, Lee Goatley, Jordan Laycock, Jarrod Willis

Project description: TerraCast Technologies uses switchgrass to produce an acetone, butanol, ethanol mixture for bio-fuel. This will potentially create a new cash crop for Kentucky, and the adoption of butanol as a bio-fuel is expected increase rapidly. Developed by UK professors Sue Nokes and Michael Montross, UK College of Agriculture.
Team TerraCast won 1st place in the Alltech competition and 2nd place at Idea State U, totaling over $20,000 in prize money.
Red Natural
MBA Candidates | Joanna Foresman, Andrew Wachs, Jeremy Madigan, Wen Zhao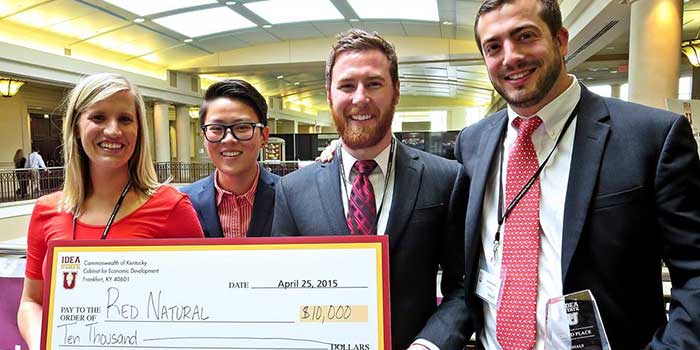 Project description: Red Natural provides a natural red food/beverage coloring to replace Red 40 by extracting vibrant red pigment from a new breed of sorghum plant. Based on research of Dr. Seth DeBolt, UK College of Agriculture.
Team Red Natural won over $8,000 in total prize money from Alltech, Idea State U, and Lexington Venture Club. In addition, the team was invited to compete in the Global Venture Investment Labs competition in Austin, TX.
AIRboost
MBA Candidates | William Walker, Kyle Hogue, Brian O'Neill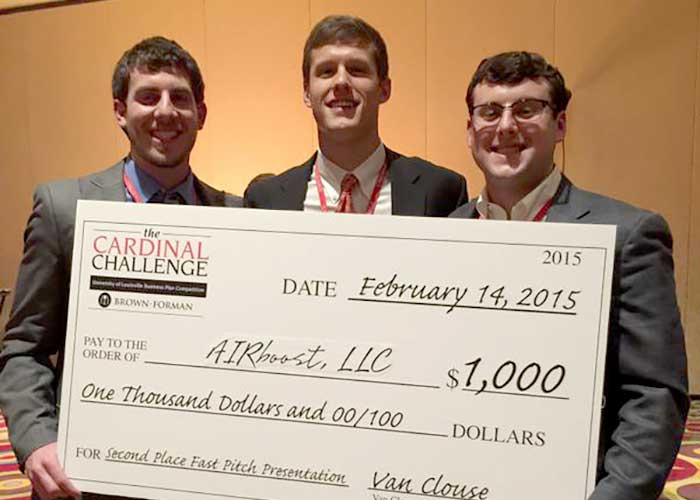 Project description: provides the mining industry with a revolutionizing solution to dust generation and methane gas emission problems. Based on research of Dr. Andrzej Wala and Dr. Todor Petrov, UK College of Engineering.
Team AIRboost won over $2,000 in competition prize money, including 2nd place at the "Fast Pitch" competition in UoL's Cardinal Challenge.
Re.3
College of Design |Mark Manczyk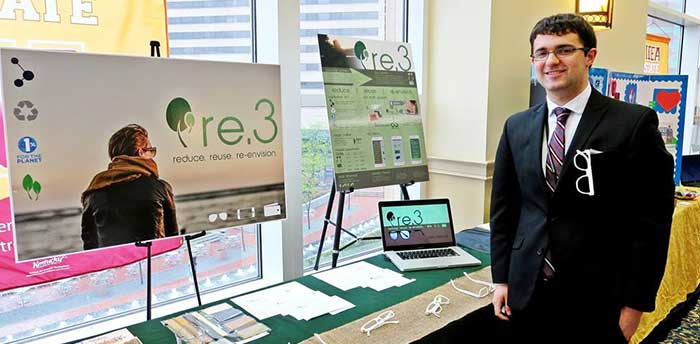 Project description: Re.3 provides eco-friendly consumer accessory products to lifestyle individuals. Based on a business concept from Dr. Seth DeBolt, UK College of Agriculture.
Mark won over $2,000 in competition prize money and made headlines in Lexington and Cincinnati.
Arymza
Pharmacy PhD Candidate Satrio Husodo
MBA Candidates Erica Clark & Miguel Doughlin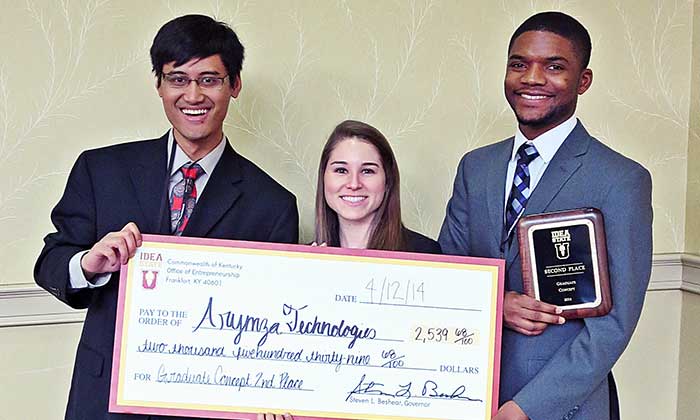 Project description: Arymza develops enzymes that accelerate the processing of starch, reducing energy costs and the need for hazardous chemicals. Once broken down, the simple sugars from the starch can be used as a food ingredient or as feedstock for microbes in the production of bioethanol.
Team Arymza won "People's Choice" at 5Across, along with several other competitions totaling over $10,000 in prize money.